Commercial & Advertising Arts (Graphics)
The Murrell Dobbins CTE High School Commerical & Advertising Arts program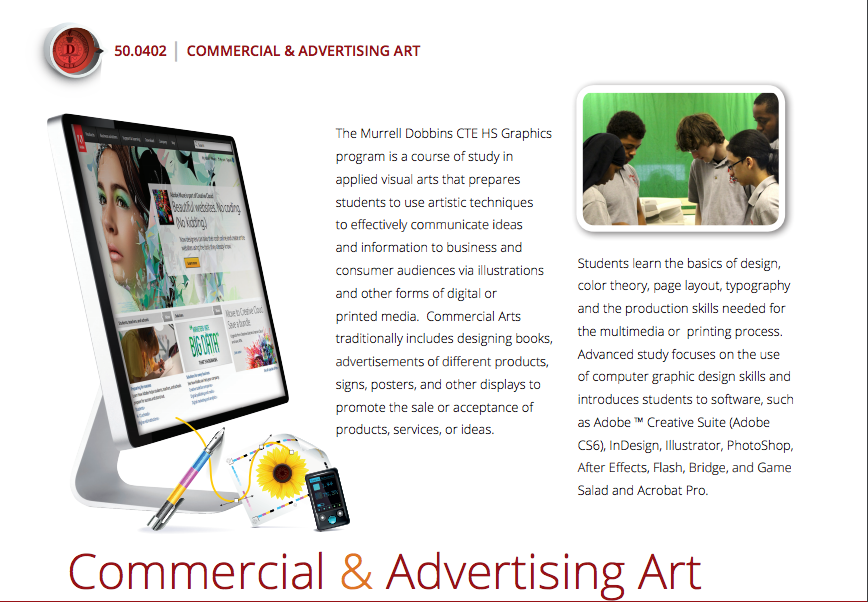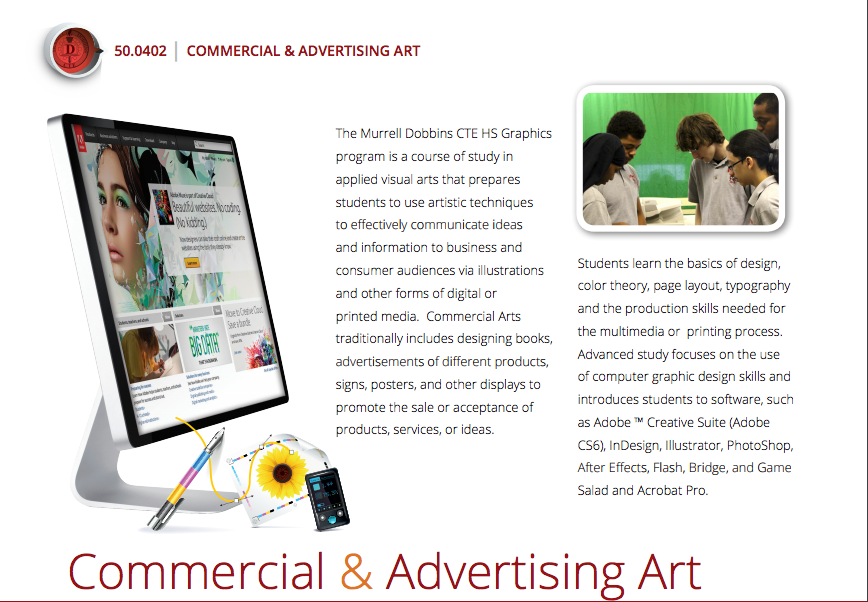 The course of study will include:
Principles of Design
Color Theory
Concept design
Proof Reading
Layout
Digital Photography
Vector/Rasterized Imaging
Typography
Drawing and Cartooning
Painting
Computer Graphics
Copyrights
OSHA (safety)
Career Opportunities: Graphic designer/artist, Photography, Story Board Creator, Editor, Game graphics animator, Project Manager, Visual Merchandising, Advertiser, Advertising Executive, Artist, Creative Director, Desktop Publisher, Copy writer, Production, Public Relations, Webmaster, Web designer, Art director, Design manager, Creative director, Illustrator, Visual image developer, Logo designer, Product Package designer
Certifications: Adobe Certified Expert (ACE), NOCTI & PrintED (Skills USA)
Program Requirements: Student Computer Graphics Kit ($100)
Graduation Requirements: Meet SDP graduation requirements and NOCTI, PrintEd & Adobe exams completion & Registration for Adobe Certified Expert (ACE) exam.
College Advanced Credits: Upon successful completion of this program of study, through the Career and Technical Education (CTE) Students Occupationally and Academically Ready (SOAR) initiative, qualified students can receive college credits for their participation in the Commercial & Advertising Arts (Graphics) program. Some of the participating institutions are Bucks County Community College, and
Pennsylvania College of Technology. Visit http://www.collegetransfer.net/tabid/101/Default.aspx?from=4067 for more information.